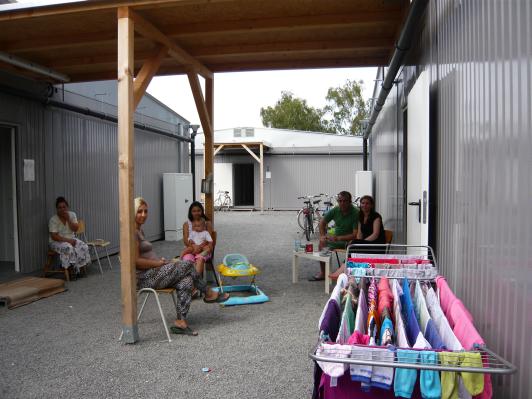 We visited the Lager in Kuthschenweg in Rheinstetten. They are many families living in the containers part of the Lager and each have a ventilator to cool their rooms. The rooms are very small, one woman living with her 5 years daughter and 6 years son in a small room. Apart from the three beds in the room, a cupboard, three chairs and a small table pushed to the wall, there is no space left just a small gap leading to the beds. Her foodstuffs, cosmetics and clothes are stored in the same cupboard. She told us how difficult it is using vouchers for shopping, each voucher is worth 26.19, one have to shop and finish the whole amount of this voucher even when her only need is a packet of milk. No change, that means if one needs only a packet of milk, one forfeits the other amount, one cannot help asking themselves the question, "are the Kreisverwaltung and the supermarkets doing business together". It is clearly stated in the voucher "Keine Luxusartikel – Alkohol o. Tabak, Keine Barauszahlung von Restbeträgen, Abgabe nur in haushaltsüblichen Mengen. Gegen Rückgabe dieses Gutscheines zusammen mit einer Rechnung sichern wir unverzüglich Zahlung bis zum vorgenannten Höchstbetrag zu".
She told us how the social workers are hostile towards her and how they tried to hinder her from attending a German course by giving an excuse that she does not have someone to look after her children. The children are in the Lager all day for the last four months, because they have to wait until September to join school. Though the teacher admitted her in class the social worker replaced her name with someone else, but the teacher was determined to have her in the course and asked her to ignore the social worker. She succeeded and is now attending the German course. She would have joined us in this tour, but it is not possible because she does not want to loose this chance after fighting so hard for it. She told us how men are harassing her in the Lager because she is alone, if she is seen talking to a man the rest conclude that she is having an affair with him, then other men start harassing her because they assume "I am cheap and they can all try their luck". She told us, about two months ago how she and her children could not sleep for sometime because of fear, after Nazis shot at the building and the police were present only for three days. She told us how the social worker who is assisting her is always talking, against asylum seekers every time she accompanies her for shopping but of course tells her she does not mean "her".
Another woman is living in the same Lager with her 8 months old twins and a 9 year old son are sharing a small room. One twin is having "Down Syndrome" sickness. The small room does not have enough air and is very hot. The child has to be put in an oxygen machine at times. A social worker is helping her with the twins and she is very grateful to her. She is asking for a flat or a bigger room for herself and the kids. The answer is always that at the moment that is not possible. One time they offered her a larger room to share with another family. This is unbelievable putting two families in a large single room! Her 9 year old son was suspended from school because he had a fight with another child. He missed part of the semester and the mother is now busy looking for a different school for him to join next semester.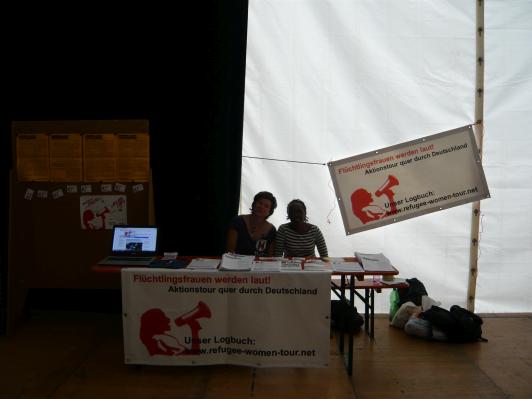 Parallel to the Lager visit, the "AG Grenzenlos", our super supporters in Karlsruhe had organised space for us to put our information materials in the festival event which was taking place next to the concert place. With the support of the AG-Grenzenlos, the day was very fruitful.