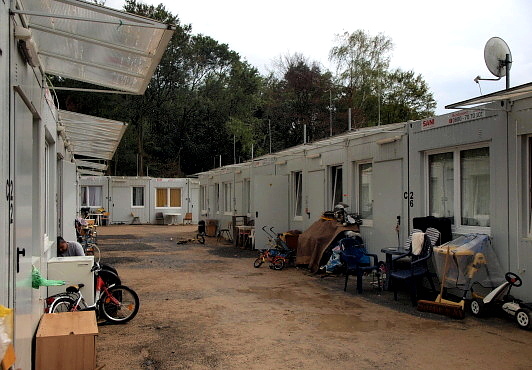 The Lager in Wohlfahrtsstraße in Bochum consists partly of container blocks and partly of blocks of houses. These are all divided into small rooms. The small rooms in the container part are housing up to five people, for example grandparents, parents and children. When you enter one container, you are in a first small room which also holds the kitchen, next to which there is another small room. In most cases there is a small sofa in the first container room and residents told us that they put a mattress in front of it at night as there is not enough space for the whole family to sleep in the second room. Because of this lack of space there are often no beds in the second room, not even for the kids in some cases. In the case of a family with 3 children there was one bed for the smallest child, the other family members sleep on mattresses.

We have seen bad conditions in a lot of places, nevertheless one never stops asking oneself why people are forced to live under such circumstances. A woman told us that she is suffering from depression and had an operation, was in and out of the hospital and is still seeing a doctor. There is no privacy in their two small rooms as she and her husband sleep in the first room with the kitchen while son, daughter-in-law and their kid sleep in the small room next to them. Despite these unbearable conditions, and especially for someone who has health problems, is traumatised, etc., the Bochum authorities plan to put up more containers!!
Furthermore, we were told that in the houses belonging to the Lager the small rooms are being shared by up to four people.
Later there was a concert at the Bahnhof Langendreer in Bochum which had a very good atmosphere. The organisers afforded us space to cook and eat at their premises. We were really touched by the solidarity and donation from the "Tippgemeinschaft Every revolution starts with a plan".